It's now possible to automatically upload a document that you are sending in an Update. (Not available for self-managed stratas)
The document will be uploaded to the folder of your choice, and sent to Strata Owners in an Update, in one step.
To do this:
Create an Update.
Attach a document (Add Attachments).
Once the document is attached you'll see a 'Select Folder' button.
Click on the 'Select Folder' button.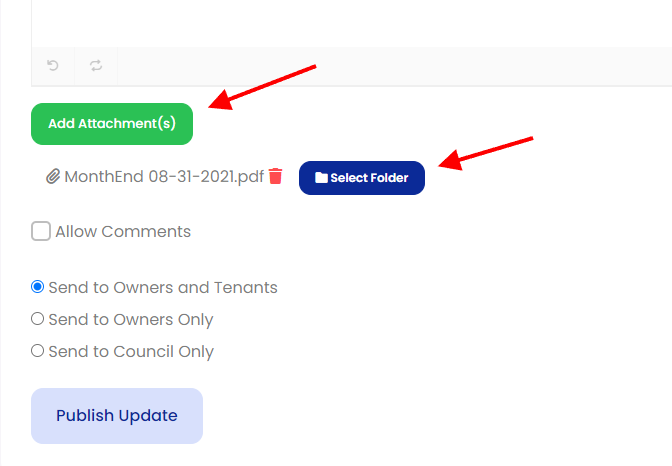 Choose the folder you want to upload the document to from the drop down list.
Once you select the folder to upload the document, click the Select Folder button.
If the document is placed in the Financials or Minutes of Meetings, you'll be prompted to provide appropriate information to name the file properly.
Click 'Continue'.
The folder selected will be indicated to the right of the file you are going to upload.
Click 'Publish Update' to send the Update and upload the document.
If the document already exists in the selected folder, it will NOT be uploaded.
ONLY ONE DOCUMENT CAN BE UPLOADED AT A TIME WHEN ATTACHED TO AN UPDATE.
MAX 5Mb file size.